Pakefield Singers – Together in Harmony
   Our Next Concert
Pakefield Singers will be performing Haydn's Nelson Mass  in St Margaret's Church, Lowestoft at 7.30pm on Saturday 28 October with the Pakefield Players led by Jim O'Toole and  Vetta Wise conducting. The 'Nelson' is the most substantial of Haydn's masses and probably the most well-known. Why the title 'Nelson' no one can be sure but it was certainly written within an month of the decisive Battle of the Nile in 1798, at which Admiral Lord Nelson was victorious, and by the time of the Battle of Trafalgar in 1805 it was routinely referred to as the Nelson mass.
Our programme also includes a second work by Haydn, his Missa Brevis in F known as the Jugendmesse, a small but perfectly formed piece and also Monteverdi's Beatus Vir. The latter will be sung by the chamber ensemble the Aurora Consort. 
 Tickets – £15  (age 16 and under free)                                                             From www.ticketsource.co.uk/pakefield-singers                                               Take Note Music Grove Road Lowestoft,  and on the door.                 Unreserved seating
                             Review of a recent concert in the  local press 
                Local Choir on a Whistle Stop Tour through the world of Opera!
With the advent of Spring comes change – the warmth of sunnier days ahead, the dark undertones of Winter still below the surface, unexpected changes occurring with dramatic effect – Opera Favourites,  presented by the Pakefield Singers at the delightful St Mary's Church, Halesworth, had all this in spades.
Conducted by Vetta Wise whose operatic pedigree requires no explanation, Opera Favourites, described as 'a concert presenting popular choruses and solos from the world of opera', did just that. A large audience graced the church to hear a programme of familiar and unfamiliar works – a Classic FM playlist with the expectation of the professional detail of a Radio 3 broadcast.
This whistle-stop operatic tour took us through a journey of differing emotions, language and characterisation. With a staged concert, even with excellent programme notes, it is easy to lose the context of an aria within the operatic plot. Soprano Katalin Prentice was able to provide both heart wrenching emotion in Purcell's aria Dido's Lament and coquettish flirtation as Violetta in Verdi's Brindisi (La Traviata). Evan Ruth and Chris Upton interacted beautifully in a wonderfully pure performance of the famous duet from The Pearl Fishers, sung unusually in English. Not to be upstaged, the chorus provided comic interaction with each other as wedding guests in a less well known opera by Donizetti (Lucia di Lammermoor).
There were those tingling moments (described by neuroscientists as a bodily reaction to something unexpected) – one being the emotive performance of the Chorus of the Hebrew Slaves (Nabucco). There was wonderful buoyancy in the rise and fall of the vocal line and the ending was pure magic – a pianissimo suspended for as long as time itself…….
A delightful Johann Strauss Finale (Die Fledermaus)  showed all the strengths of the Pakefield Singers – a lightness and lilt in the singing with the seamless passing of phrase between soloists, chorus and solo ensemble keeping a natural ebb and flow. The warmth of applause showed the audience appreciation of the evening, with a special cheer for organist Tim Patient, who not only set the scene at the beginning of each half with organ transcriptions of an opera favourite, provided sympathetic accompaniment for each number, but would also surely have played the missing anvils in the Anvil Chorus if he had a spare pair of hands!  The concert was dedicated to Shirley Smith, who was an active committee member of Pakefield Singers and an experienced alto.  She would surely have been tapping her feet and singing along.                                                                                                                       Stella Calver
Introducing Pakefield Singers
Pakefield Singers is an amateur choir based in Pakefield near Lowestoft, Suffolk. We are a unique choir with an extensive and varied repertoire and performance history, spanning all types of music, arrangements and songs from operas, musicals, traditional and popular music, works by contemporary composers, short choral works by composers such as Faure, Mozart, Mendelssohn and Vivaldi, alongside full choral works by the likes of Verdi, Handel and Beethoven.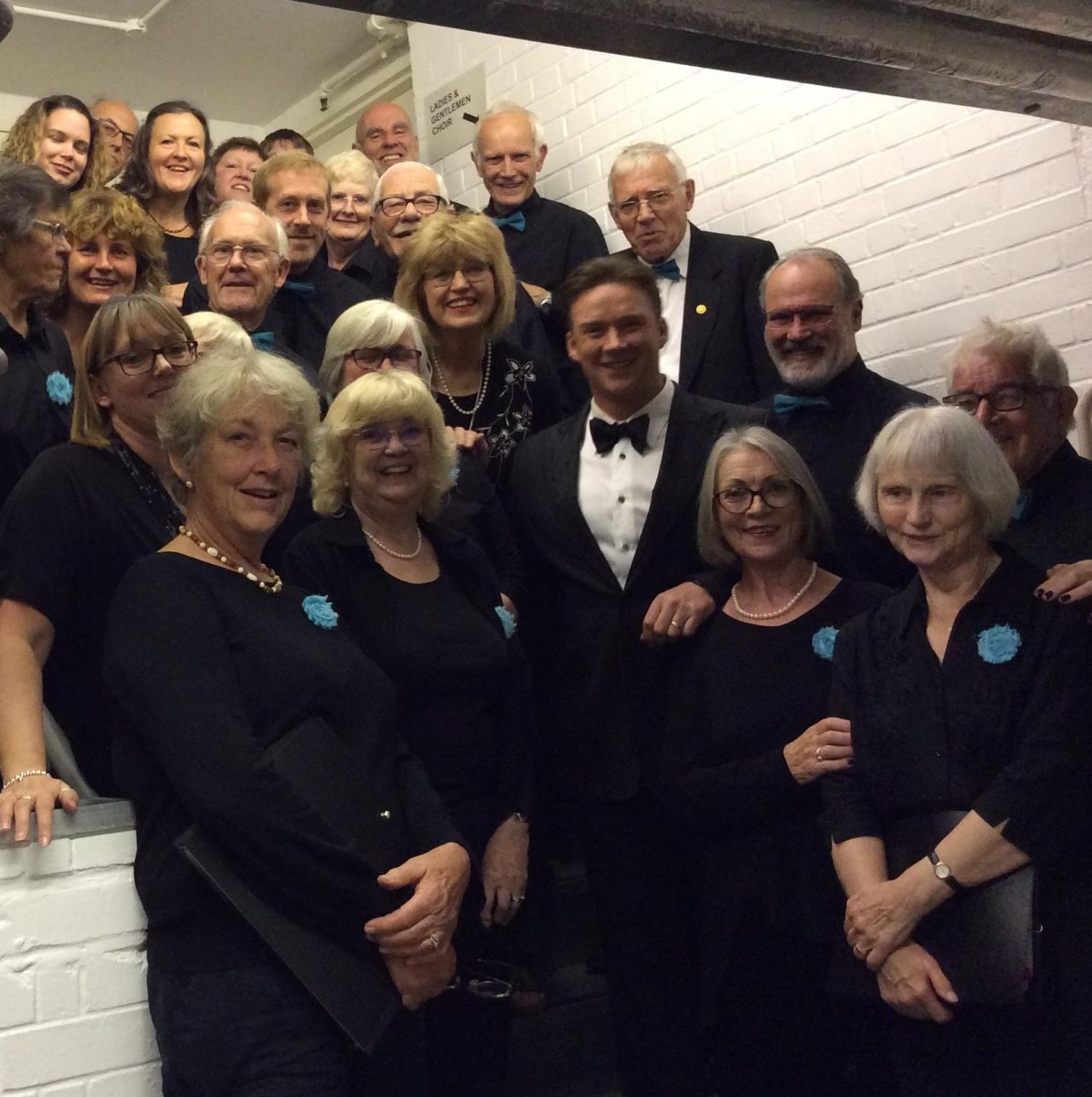 Since its inception in 2002, Pakefield Singers has performed extensively across the region, including concerts at Great Yarmouth Minster, Kentwell Hall, Snape Maltings, Lowestoft's Marina Theatre, Pakefield Church, Blythburgh Church, Southwold St Edmund's, and Pontins at Pakefield. In addition, the choir has been on tour in Denmark and has enjoyed working alongside Aled Jones and Russell Watson, The Royal Philharmonic Orchestra, London Gala Orchestra, Kingfisher Sinfonietta, and BBC Radio Suffolk.
We hope that, as you browse, and find out more about our history, past and future performances, our growing repertoire and aspirations, you may like to join us at a concert in the near future… If you would like further information regarding bookings, membership or sponsorship you will also find our contact details
We hope you find what you are looking for on our site but if not please contact us.
 Enjoy your visit!
If you would like to know more about the choir or would like to join us please get in touch by emailing to pakefieldsingers@gmail.com 
and follow us on Facebook.